Product Description
The original knitted female octagon in the urban style (City style). Top knitted cloth handmade wool with acrylic. Around the natural wool of black color, decorated with weaving from a thread of knitted linen. The visor is made by hand from the original high-quality plastic. The top of the visor is made of nosostoykoy patent leather, the bottom of imitation leather stingray The lining is made of fine cotton linen with lurex thread of gold color. The inner part of the band is perforated genuine leather.
The cap has original tags, packed in craft paper with logos and packed in an individual craft box with wax seals.
Boxes, wax seals, craft paper and tags - all with "Ira Bi design" logos.
Kraft box also serves to store caps in the offseason.
The size of the female model "Snow" from 55 to 58.
Dry cleaning
Reviews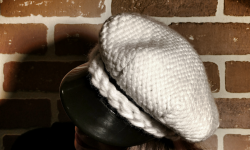 Понравилась, очень удобная и стильная.
Other products of the author